Dr. Freiburger has compiled a collection of her favorite recipes, that are not only delicious, but also encourage eye-health as well! From Zucchini muffins to Minestrone Soup, these recipes are sure to quench your appetite and keep your eyes healthy!
Click the accordions to find delicious eye-healthy recipes!
Zucchini Muffins
Dr. Sarah's Zucchini muffin recipe
It's harvest time! My first ever back yard garden produced a large amount massive zucchini's, so I have been making everything from Zucchini boats to fritters to muffins. Here is my recipe for my favorite Zucchini muffins, which as usual offer some great nutrients for your eyes! The main Eye Foods in this recipe are the Zucchini which has Vitamin C and A, Oatmeal which adds fiber to the muffins and pumpkin seeds which have the super healthy mineral Zinc which has been shown to prevent macular degeneration!
Ingredients
2 cups whole wheat flour
1 tsp baking powder
1 tsp baking soda
½ tsp salt
1 1/2 tsp cinnamon
1/2 tsp nutmeg
1 beaten egg
½ cup maple syrup
¾ cup milk
1 tsp vanilla
2 cups grated Zucchini
1/3 cup oats 1/3 cup pumpkin seeds + extra for sprinkling on top
(Option to add 1/3 cup chocolate chips to make them sweeter!)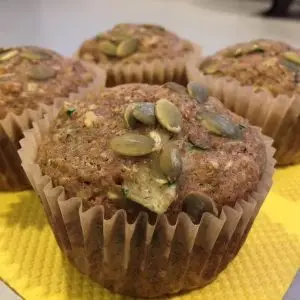 Directions:
Pre-heat oven to 350 degree F
Combine flour, baking powder, baking soda, salt, cinnamon and nutmeg in a large bowl.
Add the beaten egg, maple syrup, milk, vanilla, grated zucchini, oats and 1/3 cup pumpkin seeds (and chocolate chips if desired). Mix until just combined. A little lumpy is just fine.
Spoon into muffin tins (either greased or with paper liners) until the cups are about half full. Sprinkle some pumpkin seed on the top of each muffin.
Bake in the pre-heated oven for about 18 mins, or until a tooth pick inserted into the centre comes out clean.
Enjoy!
Blueberry and Flax Seed Pancakes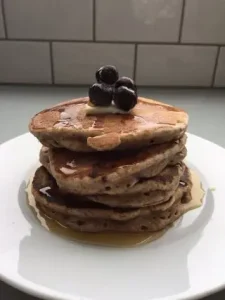 Flax seed pancakes your kids will love!
I love brunch – especially pancakes at brunch! These pancakes will fill you up and they are delicious and healthy too! They have key ingredients that are really good for your eyes which is what makes them an eye Food! The secret ingredient that transforms them into an eye food is the ground flax seed. Flax seed has 4 key eye nutrients.
The first is Omega – 3 fatty acids (ALA form). The omega -3 – fatty acids are especially beneficial for people with dry eye. Dry eye is an inflammatory chronic condition and omega -3 fatty acids are amazing at reducing inflammation and have been shown to reduce dry eye symptoms.
Flax seed also has Vitamin E, an antioxidant and Zinc, an important mineral. Antioxidants and Zinc have both been shown to prevent macular degeneration. Vitamin E has been shown to protect against cancer and heart disease, while zinc is important in keeping your immune system healthy.
The 4th healthy component is the fiber! Fiber helps make you feel full and keeps you going. It decreases the glycemic index of food and diets with lower glycemic loads have been shown to decrease your risk of macular degeneration. Grinding flax seeds into flour breaks down the outer layer of the seed and makes it easier for our bodies to absorb the good stuff on the inside.
Adding blueberries to the pancake batter makes them tastier and also adds an extra antioxidant boost!
Ingredients:
1 cup whole wheat flour
0.5 cup ground flax seed
1 table spoons sugar
2 teaspoons baking powder
1 teaspoon salt
1.5 cups milk
2 eggs
1 cup fresh or thawed frozen blueberries
Directions:
Mix together in a large bowl the flour, ground flax seed, sugar, baking powder and salt. Add the milk and eggs. Once well combined gently stir in the blueberries.
Heat a well-oiled pan or griddle. Scoop about ¼ cup of batter onto pan for each pancake. Cook until pancakes are golden brown on both sides. Serve hot with maple syrup and for Dr. Freiburger's favorite way – spread with peanut butter and maple syrup! Yumm!
Stuffed Orange Pepper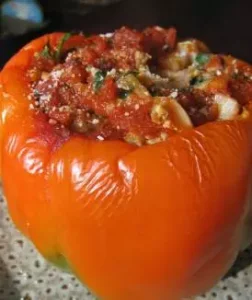 Makes 8-10 Peppers
Ingredients
8-10 orange peppers
2 tbsp canola or olive oil
1 package ground turkey or extra lean ground beef (500g)
2 carrots, chopped
2 celery stalks, chopped
½ onion, chopped
100 g frozen chopped spinach
(8 nuggets) (1/2 cup)
2-3 cloves garlic
2 tsp Italian seasoning
2 tsp sage
2 cups cooked barley (just over ½ cup raw barley)
2 omega-3 eggs
1 litre tomato sauce
1 1/2 cups chicken stock
Salt and pepper
Preheat oven to 375 degrees.
Barley1) Bring 1 cup water to a boil in a medium saucepan. Add barley.
2) Bring water back to a boil, partially cover and simmer on low for 30-40 minutes or until water is absorbed. Remove from heat.
Stuffing1) Brown ground turkey or beef in a large sauté or saucepan in 2 tbsp olive or canola oil. Drain off excess fat.
2) Add onion, garlic, carrots and celery. Cook for another 5 minutes or until vegetables are tender.
3) Add frozen spinach and seasonings. Cook until spinach has softened.
4) Stir in cooked barley and remove from heat. Let cool.
5) Add 2 eggs and mix well.
Assembly1) Remove tops and seeds from peppers.
2) Mix tomato sauce and chicken stock in the bottom of a casserole dish
3) Fill each pepper with stuffing and add to the casserole dish.
4) Cover with foil and bake in a 375 degree oven for approximately 1 hour.
Note: This recipe will produce peppers with a firm texture. Alternatively, pre-cook peppers before stuffing.
Tip: Make extra stuffing and freeze. This will make for a quick, tasty supper.
Winter Red Pepper and Pistascio Soup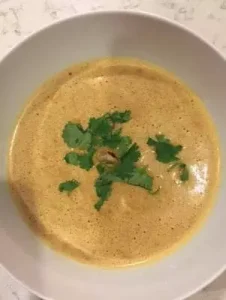 Waking up on December 1st it looks like winter has finally hit Calgary! Here's a recipe for a winter soup that has a spicy kick to it to warm your insides! As with all our recipes it also has the added benefit of providing healthy nutrients for your eyes. The 3 ingredients that are power foods in this recipe are Red Peppers, Pistachios and canola oil. The coconut milk adds a creamy texture to the soup without using heavy cream, increasing the health benefits.
Canola oil is an excellent source of omega-3 fatty acids. Omega-3 fatty acids decrease inflammation in the body and that promotes eye health by decreasing dry eye and it has even been linked to reducing your risk for macular degeneration. Pistachios are what make this recipe unique and they are a unique nut themselves because they contain Lutein. Lutein is a super eye food because it has been proven to bulk up your macular pigment to give you more protection against the sun, thus decreasing your risk of Macular degeneration.
Red Peppers are high in the anti-oxidants Vitamin C and beta-carotene. Beta carotene is an amazing anti-oxidant that helps to reduce your risk for macular degeneration. Vitamin C is an anti-oxidant that helps to keep you and your eyes healthy! There is actually 10-20x's the concentration of vitamin C in the aqueous humor (fluid inside of your eye) than the fluid of the rest of your body!
Ingredients:
2 Tbs canola oil
1 small onion, diced
2 large red bell peppers, diced
2 serrano or green Thai chilies, diced – just use 1 if you don't like things too spicy!
2 tsp paprika
1/2 tsp salt (or to taste)
½ tsp ground cardamom
½ cup shelled pistachios
2 and ½ cups vegetable broth
1 cup coconut milk (the stuff in a can)
¼ cup fresh cilantro
Directions:
1. Heat oil in large sauce pan or pot. Add onion and red pepper and chilies and cook stirring until onion is lightly brown (~5mins).
2. Add broth and pistachios, bring to a boil and then reduce heat and simmer until pistachios are fork tender (~20 mins)
3. Remove from heat and using an immersion blender puree soup until smooth. A blender can also be used by transferring soup in batches, but be careful blending the hot soup!
4. Pour in coconut milk and stir.
5. Serve sprinkled with cilantro – serves 4
For additional texture, flavour and presentation – puree an additional ¼ cup pistachios with ¼ cup water in a food processer and add a dollop on top before serving!
Recipe adapted from similar recipe on Eating Well website, but with our own twists!
Pumpkin Cake

Perfect Fall Recipe:
Sometimes you have to indulge and this recipe may not be the healthiest, but there are some ingredients that help keep your eyes healthy and give you a good excuse to enjoy this recipe from time to time. Just in time for Halloween!
Pumpkin Cake
Ingredients:
1 cup white sugar
¾ cup vegetable oil
½ cup apple sauce
1 tsp vanilla
2 cups pumpkin (I used baked pumpkin from my garden, but canned works also)
4 eggs
2 cups all purpose flour
3 tsp baking powder
2 tsp baking soda
2 tsp ground cinnamon
1 tsp ground nutmeg
¼ tsp ground cloves
1 cup pumpkin seeds (optional)
Directions:
Preheat oven to 350 degree F. Grease and flour a 12×18 inch pan. Sift together flour, baking powder, baking soda, salt, cinnamon, nutmeg and cloves. Set aside
In a large bowl combine sugar and oil. Blend vanilla and pumpkin, then beat in eggs one at a time. Gradually beat in flour mixture. Stir in nuts. Spread batter into pan.
Bake in the preheated oven for 30 mins or until a toothpick inserted into centre comes out clean. Allow to cool.
Once cooled add icing if desired. We recommend a simple brown butter icing as follows: (taken from http://www.marthastewart.com/314840/brown-butter-icing)
Icing
Ingredients:
4 tablespoons unsalted butter
1 cup sifted confectioners' sugar
1 teaspoon pure vanilla extract
1 to 2 tablespoons milk
Directions:
In a small saucepan, melt butter over medium-high heat until nut-brown in color, about 10 minutes. Remove pan from heat, and pour butter into a bowl, leaving any burned sediment behind.
Add sugar, vanilla, and 1 tablespoon milk; stir until smooth. If the icing is too thick, add the remaining tablespoon milk, a little at a time, until consistency is spreadable. Let cool 5 minutes. Use immediately.
Benefits of Pumpkin cake
Pumpkin is a delicious fall flavour and as it's bright color suggests it is filled with vitamins that are
protective for your eyes. The orange color of pumpkins is caused by the large amounts of beta-carotene
found in them. Beta-carotene is an eye super antioxidant and helps prevent Macular degeneration and
may also help prevent heart disease and cancer. Other nutrients that pumpkins contains that are
beneficial for your eyes are vitamin E, Zinc, Fiber, lutein and zeaxanthin. Pumpkin seeds add a nice
texture to the cake and they are also high in Zinc. Zinc is another antioxidant that helps protect against
oxidative damage in your eye that may cause Macular degeneration and cataracts. In this recipe we also
cut some of the sugar and vegetable oil and substituted apple sauce to help with sweetness and texture.
So if you needed any more motivation to try out this delicious fall pumpkin cake now you know how it
can help keep your eyes healthy and taste great too!
Delicious "SEE FOOD"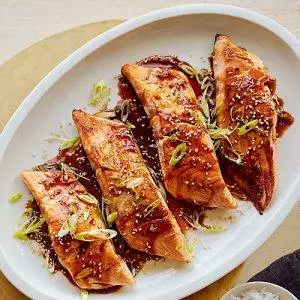 Listed below is a delicious sea food recipe that can also be considered great "see" food as well. It contains a couple ingredients that not only taste great but help provide some significant benefits to helping you see clearly into the future.
The first of these ingredients is the salmon fillet, which is a great see food because it contains omega-3-fatty acids as it is a cold water fish. This is beneficial due to the fact that these fatty acids help reduce inflammation in the body and can help be a protective factor against eye conditions including dry eyes, cataracts and age related macular degeneration. In fact Omega-3-fatty acids have been shown to be therapeutic for dry eye syndrome. Increasing your consumption of Omega-3-fatty acids also has been shown to reduce your risk for other disease such as heart disease, high cholesterol, rheumatoid arthritis and dementia! It's great for your whole body!
The second item on this menu that provides protection for your eyes is the lemon juice. This is protective and works in conjunction with the salmon because it contains vitamin C, which is a water soluble antioxidant that can neither be produced nor stored in the body. These antioxidants are important in the body because they team up with the omega-3s to help protect against cataracts as well as age related macular degeneration. Together these two ingredients provide a one two punch to help maintain the health of your eyes and have you seeing clearly.
TERRIYAKI, GINGER SALMON
INGREDIENTS:
1 large salmon fillet
Marinade Ingredients:
5 cloves garlic, crushed
2 tbsp. fresh ginger, grated
1/3 cup lemon juice
½ cup dark soya sauce
2 tbsp. brown sugar
1 tbsp. grated fresh pepper
2 tbsp. vegetable oil
METHOD:
Mix marinade in an extra large zip lock bag. Add the salmon (remove all fine bones). Let sit 3 hours to overnight.
Remove salmon, bake at 425F for 15-20 minutes depending on the thickness of the filet. (Parchment paper in pan makes for easy cleanup!)
Can be served cold on platter garnished with lemon wedges, cucumber slices and baguette slices topped with cream cheese, red onion, dill and other desired items.
Idea:
If you purchase the salmon and plan to freeze it for future use, mix the marinade as above in the extra large freezer bag, add the salmon, freeze and remove from freezer the night before you plan to cook it.
Summer Recipes – Kale Caeser Salad
If you are looking for a delicious new recipe then look no further as this recipe not only tastes amazing but also helps keeps your eyes healthy and seeing clearly today and into the future.
Kale Caesar Salad
INGREDIENTS:
1 bunch kale1/4 cup
coarse fresh breadcrumbs or croutons
1 tbsp. olive oil
1/4 cup finely grated Parmesan cheese, plus extra for sprinkling over salad
1/2 cup roasted garlic
Caesar dressing (recipe below)
For the Roasted Garlic Caesar Dressing (makes about 3/4 cup):
1 head garlic
Olive oil
Juice of 1 lemon (about 1/4 cup)
1 tbsp. capers
2 anchovy filets
2 tsp. Dijon mustard
1/2 tsp. salt
METHOD:
Remove the thick stalks from the center of the kale. Pile the leaves on top of one another and roll together into a cigar. Cut the kale into thin ribbons.
Preheat the oven to 400F. Toss the breadcrumbs together with the olive oil in a small mixing bowl and spread in an even layer on a parchment-lined baking sheet. Toast in the oven until golden brown and crisp, about 5 minutes.
In a large mixing bowl, toss the kale together with the dressing. Add the Parmesan cheese and toss again. Divide among four plates, and top with the breadcrumbs, plus a bit more cheese, if you'd like.
Preheat the oven to 400F.
Remove the outer layers from the head of garlic so the individual cloves are exposed. Chop off the top 1/4 inch of the head so you can see the raw cloves within their skins.
Place on a 9×13 sheet of foil, drizzle with olive oil, and wrap so the packet is tightly sealed. Roast in the oven for 30 minutes, until the cloves are soft to the touch. Remove from the foil packet and allow to cool.
When cool enough to touch, squeeze the cloves out of their skins and add to a food processor. Puree the garlic along with the lemon juice, mustard, salt, and 1/3 cup olive oil. Taste and add more oil as necessary to reach the consistency you like. (This should be a thick dressing, with a punch of acidity.) Store in an airtight container for up to 2 weeks.
Benefits of this Recipe
While you sit down and enjoy this wonderful dish you can read and be delighted by the great service that you are doing to your vision. First off, the kale is an excellent source of the pigments Lutein and Zeaxanthin, containing up to 3 times more of these compared to other leafy greens. These pigments are a great addition to your diet and help your eyes as they absorb both UV and blue light, which can cause damage to your eyes. This is great news because blocking those rays can help people who already have age related macular degeneration and may also help prevent it's onset along with other conditions such as cataracts. The main reason why this dish is so important to our eyes is that we are unable to produce these pigments ourselves, so adding a delicious recipe like this to your cookbook will definitely help give your eyes the nutrients they need.
Adding olive oil helps to foods such as kale, helps the lutein in them be absorbed into your body. This gives the Lutein from the Kale that extra boost it needs to get to your eyes and protect them. It also contains vitamin E which is an antioxidant and can also help protect against cataracts and macular degeneration. Lastly the anchovy contains omega 3 fatty acids, which includes DHA and EPA. This is great for us because these also help protect us against macular degeneration as well as dry eye! These are not only great for our eyes but can also help our whole body as they also help reduce dementia, high cholesterol as well as heart disease.
By enjoying this delicious salad you can be proud that you are doing a great service to not only your eyes but your whole body. Who knew that healthy eating could be so easy, and delicious.
To evaluate your eye health, book an eye exam with Eye Q Optopmetry.
April's eye food recipe – Beet Salad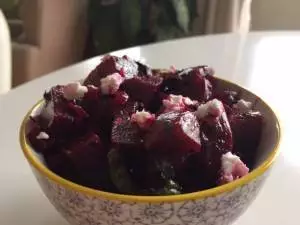 Sauce Beet Salad
4 medium beets – scrubbed, trimmed and cut in half· 1/3 cup chopped walnuts· 3 tablespoons maple syrup· 1 (10 ounce) package mixed baby salad greens· 1/2 cup frozen orange juice concentrate· 1/4 cup balsamic vinegar· 1/2 cup extra-virgin olive oil· 2 ounces goat cheese· Add all ingredients to list
1. Place beets into a saucepan, and fill with enough water to cover. Bring to a boil, then cook for 20 to 30 minutes, until tender. Drain and cool, then cut in to cubes.
2. While the beets are cooking, place the walnuts in a skillet over medium-low heat. Heat until warm and starting to toast, then stir in the maple syrup. Cook and stir until evenly coated, then remove from the heat and set aside to cool.
3. In a small bowl, whisk together the orange juice concentrate, balsamic vinegar and olive oil to make the dressing.
4. Place a large helping of baby greens onto each of four salad plates, divide candied walnuts equally and sprinkle over the greens. Place equal amounts of beets over the greens, and top with dabs of goat cheese. Drizzle each plate with some of the dressing.
This recipe is delicious, but why is it good for your eye health?
Beets are a well-known super food, but the two nutrients that benefits the eyes the most are fiber and vitamin C. Vitamin C cannot be stored or created in our bodies. This water-soluble vitamin along with other antioxidants have been shown to decrease the risk of AMD in the elderly and may also reduce the risk of cataracts. A diet high in fiber can benefit eye health in a couple of ways. Foods with high fiber content have a lower glycemic index,and having a lower glycemic index reduces the risk of AMD. Having a higher amount of fiber in our diets also supports a healthy cardiovascular system which in turn promotes healthy eyes.
Dark leafy greens are rich in many nutrients which make them one of the best eye foods. There are many benefits to these greens, the main two are lutein and zeaxanthin. Both of these nutrients are abundant in the macula [the central part of the retina.] Our bodies cannot make either of these nutrients; we must take these in through our diets. In our eyes both of these nutrients absorb blue and UV light, protecting the macula from their harmful effects. Many studies have shown that a diet high in lutein can protects against age-related macular degeneration, and can improve visual function in eyes that already have AMD.
Olive oil is a great addition to this recipe as it increases the body's ability absorb the lutein found in leafy greens.
Walnuts contain an omega-3 fatty acid called alpha-linolenic acid or ALA for short. This particular omega-3 has been found to be therapeutic for patients with dry eye syndrome.
We hope you enjoy this recipe as much as we do. Bon apetit!
Winter – Minestrone Soup
Now that the snow is back (after that annoying September snow and then beautiful October) it's the time of year for warm hearty soups! This recipe is adapted from one I found in my favorite magazine – Canadian Running. The recipe is from a book called Racing Weight Cook book.
(here's a link to check out more healthy recipes from them https://www.velopress.com/books/racing-weight-cookbook/).
They always have great healthy recipes, and this one is particularly good for your eyes!
Kales is our favorite "eye food" due to its high quantity of Lutein. Cooking the kales actually makes it easier for our bodies to absorb the vitamins. Lutein is a vitamin that deposits in your macula, your central vision area, and where macular degeneration occurs. A diet high in lutein has been shown in many studies to prevent macular degeneration.
This soup is also high in fiber from all the good veggies and chick peas. Fiber is good for eye and heart health. The carrots in this soup provide beta-carotene, which is a vitamin that also protects from macular degeneration. It's true, carrots are good for your eyes!
Minestrone Soup
Ingredients:
4 Cups Vegetable Broth
1- 14 oz can diced tomatoes with juice
1- 15 oz can chick peas, rinsed and drained
1 large carrot, chopped
3 ribs of celery, chopped
½ sweet onion, chopped
3 cloves of garlic, crushed
2 cups Kale
Salt and pepper to taste
Directions:
Combine all ingredients except kale, salt and pepper in a large soup pot and bring to a boil.
Reduce heat and simmer, covered for 40 mins.
Add kale and cook for 10 more minutes.
Season with salt and pepper to taste.
Enjoy!
Jessica's Power Breakfast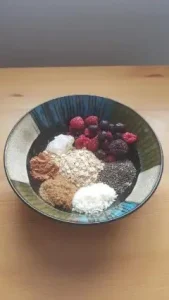 The New Year is full of resolutions to be healthier, and why not kick start your day with a delicious and healthy breakfast that contains a ton of nutrients that are good for your eye health. Jessica, one of our glasses experts at the office started bringing this to work for breakfast and it looked so delicious we all wanted to try it! It's super easy to make!
Oatmeal, oat bran, wheat bran, flax seeds, and shredded coconut contain fiber that helps keep your cholesterol low, blood pressure low and heart healthy. High blood pressure and heart disease are liked to eye diseases such as hypertensive retinopathy and macular degeneration, so reducing your risk also protects your eyes.
The berries contain antioxidants that can help prevent cataracts and macular degeneration Flax seeds contain omega -3 fatty acids that can help reduce inflammation and help reduce dry eye.
Coconut oil contains medium chain fatty acids that also help reduce inflammation in your body.
Overall it's a great start to your day!
Ingredients:
1/3 cup Oatmeal Blend (oats, oat bran, wheat bran, flaxseed)
1 Tbsp Chia Seeds
1 Tbsp Shredded Coconut
1 Tbsp Brown Sugar
1 Tsp Cocoa Powder
1 Tsp Coconut Oil
¼ cup Frozen Berries
1 pinch of Salt
2/3 cup Water
Put all ingredients in a microwave-safe bowl and stir to combine. Heat for 1.5 mins, stir and put back in the microwave for 1.5 mins. Stir once more and enjoy!
Couscous with Roast Pumpkin, Raisins and Almonds
Fall 2021 Eye Health Recipe:
Couscous with Roast Pumpkin, Raisins and Almonds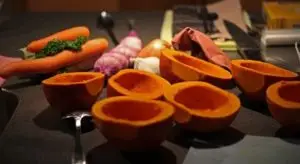 Dr. Freiburger found this recipe in a book called "Made in Morocco" by Julie Le Clerc and John Bougen. It reminded her of some of the delicious meals she had when she was in Morocco on an eye care mission during her last year of optometry school! Bonus: pumpkin is an awesome eye food! Pumpkin has Zinc, Vitamin C, Vitamin A, Lutein and Zeaxanthin which are all important in promoting eye health! Lutein and Zeaxanthin specifically have been shown to decrease the progression of Age Related Macular Degeneration.
Ingredients:
½ large pumpkin (or butternut squash) seeds and skin removed
Sea Salt and Freshly ground pepper
1 onion peeled and chopped
2 cloves of garlic
1 ½ cups chicken or vegetable stock
1 ½ cups instant couscous
½ cup raisins
½ toasted sliced almonds
1/3 cup chopped fresh coriander
Directions:
Preheat oven to 400 deg F. Cut pumpkin into small cubes and place in an oven pan. Drizzle with olive oil, season with salt and pepper and toss well. Roast for 30 mins, tossing once during cooking, until pumpkin is tender and golden brown
Meanwhile, heat 2-3 tablespoons olive oil in a large sauce pan and cook onion and garlic over medium heat for 5-10 minutes until softened but not colored. Add stock and bring to a boil.
Stir in couscous, then remove the pan from the heat. Cover and leave to steam for 10 minutes to soften. Remove covering and fluff up couscous with a fork. Season well with salt and pepper.
Combine couscous with raisins, toasted almonds, coriander and hot pumpkin and toss well to serve.